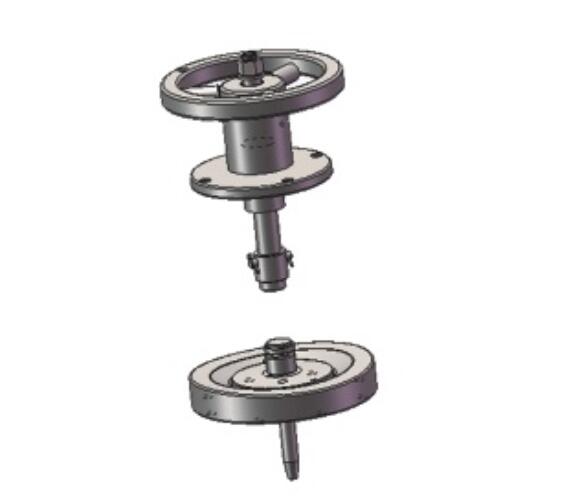 Part No.: 174C0001-00
Connection:
4x ф10.5x PCD 134
8x ф 14x PCD177.8
Nominal Diameter: 97 .8mm
Nominal Pressure: PN6
Design Temperature: -40°C~ + 200°C
Contact Parts: CF8M
Seal: PTFE
Rotary Bottom Valve-Body upper inlet flange mounting size 4* ф 10.5 ",all distributed on ф 134 circle. Body lower outlet flange mounting size 8* ф 14 ", all distributed on ф 177.8 circle. The middle connecting pipe size can be selected according to the tank.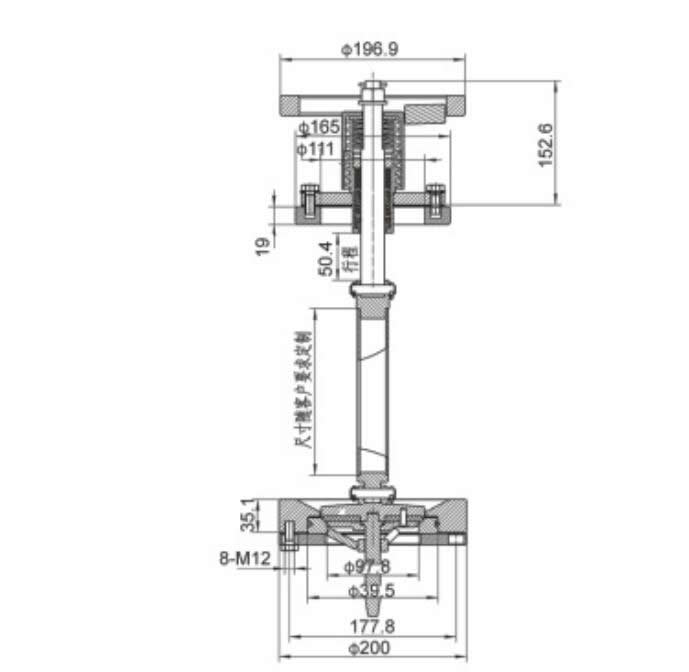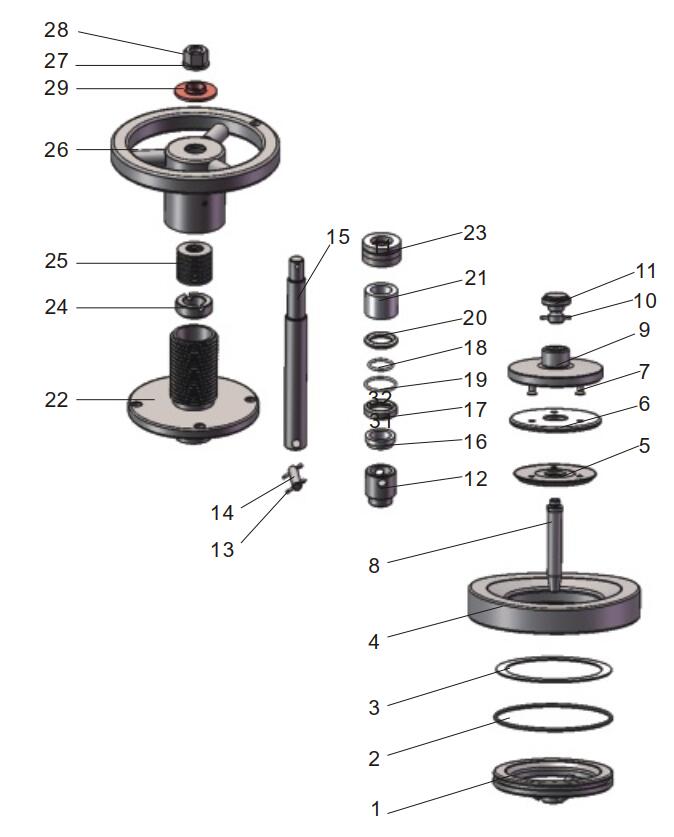 | | | |
| --- | --- | --- |
| Item | Part No. | Description |
| 1 | 174C0001-01-00 | Seal Seat |
| 2 | 85A40000132*3.55 | O-Ring |
| 3 | 174C0001-02 | Gasket |
| 4 | 174C0001-03 | Welded Flange |
| 5 | 174C0001-04 | Gasket Gland |
| 6 | 174C0001-05 | Seal |
| 7 | 859988006*20 | Countersunk Setscrew |
| 8 | 174C0001-06 | Stem Guide |
| 9 | 174C0001-07-00 | Sealing Ring Holder |
| 10 | 174C000110 | Flexible Pins |
| 11 | 174C0001-08 | Lower Connection Buckle |
| 12 | 174C0001-09 | Upper Connection Buckle |
| 13 | 859960003.2*20 | Split Pin |
| 14 | 174C0001-10 | Hinge Pin |
| 15 | 174C0001-11 | Shaft |
| 16 | 174C0001-12 | Bush |
| 17 | 174C0001-13 | Junk Ring |
| 18 | 174C0001-14 | Seal |
| 19 | 174C0001-27 | Seal |
| 20 | 174C0001-15 | Junk Ring |
| 21 | 174C0001-31 | V-Fillers |
| 22 | 174C0001-17-00 | Round Flange To Thread |
| 23 | 174C0001-26 | Wave Type Elastic Pad |
| 24 | 174C0001-18 | Stuffing Clamp |
| 25 | 174C0001-19 | Belleville Washer |
| 26 | 174C0001-20-00 | Handle |
| 27 | 8598100016 | Washer |
| 28 | 85984400M16 | Nut |
| 29 | 174C0001-22 | Copper Sleeve |