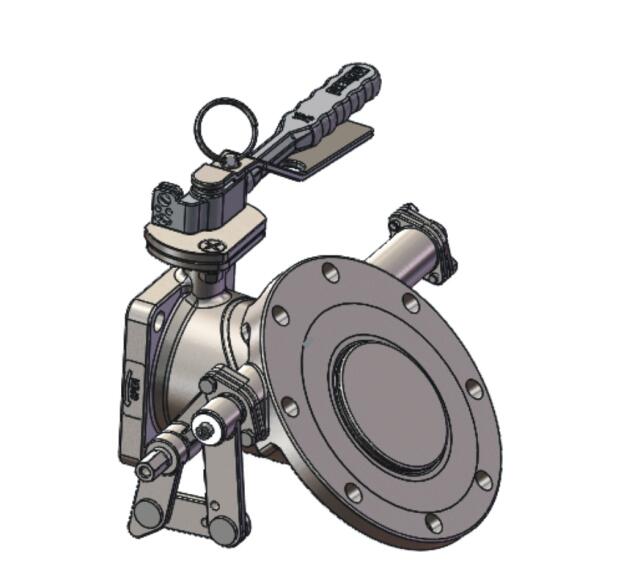 Part No.: HDD48008-01-00
Connection:
8x ф 14x PCD178
4x ф 14x PCD 130
Nominal Diameter:80mm
Nominal Pressure:PN4
Design Temperature: – 40°C~ + 200°C
Contact Parts: CF8M
Seal: PTFE、VITON、FEP+Silicon
Integrated Speed Flow Foot Valve for butterfly valve and speed flow valve integrated valve. Inlet flange drilled 8x ф 14mm holes equi-spaced on a PCD 178, Outlet flange drilled 4x ф 14mm holes equi -spaced on a PCD 130. Option-Shutting-Off device for emergency and fusible link.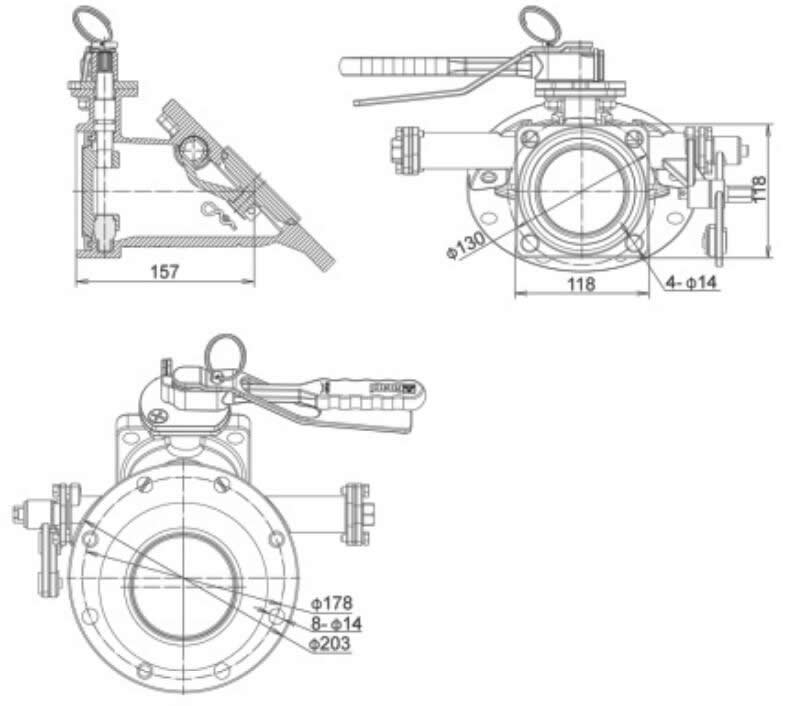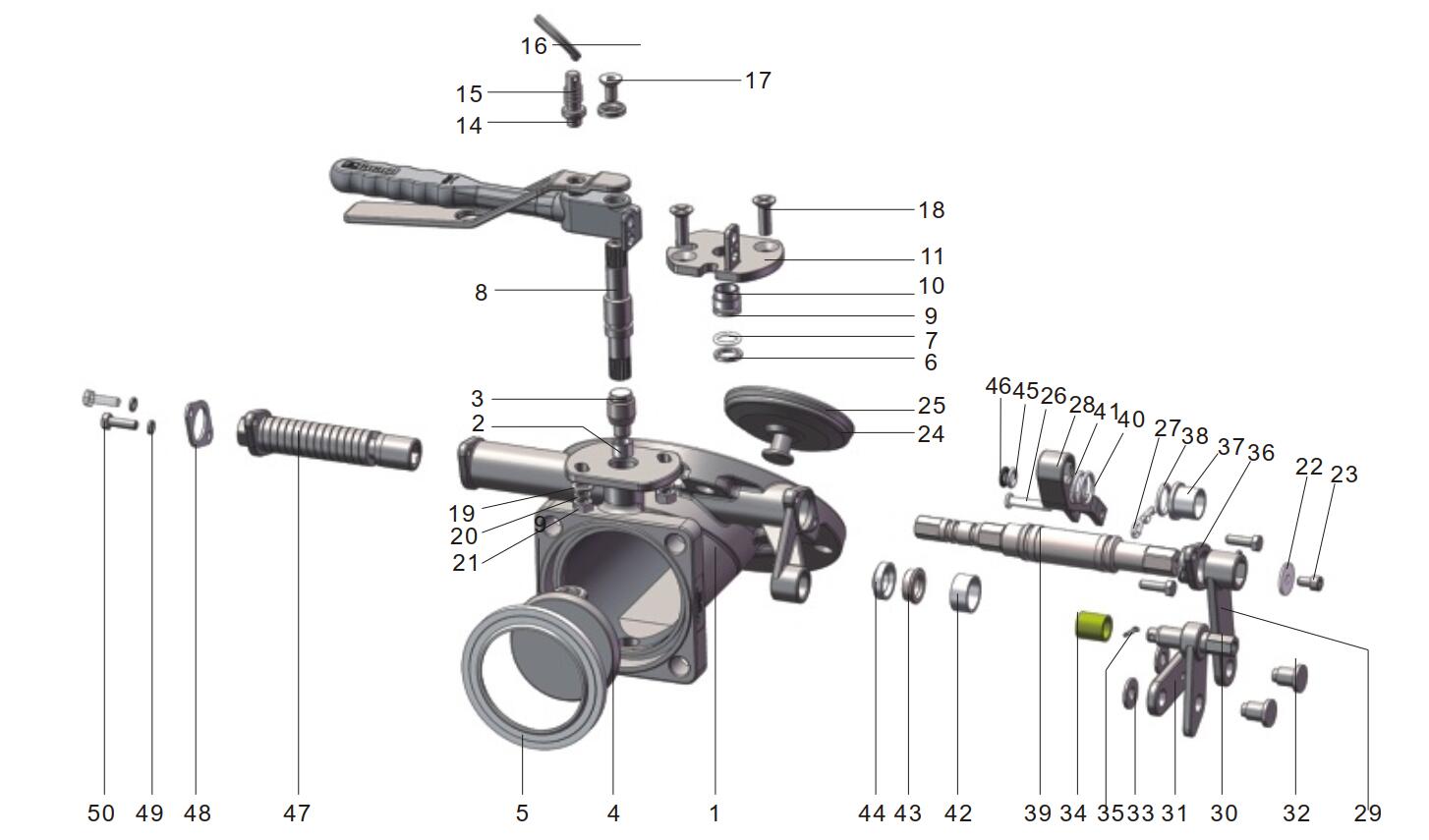 | | | |
| --- | --- | --- |
| Item | Part No. | Description |
| 1 | HDD48008-01-01 | One-Piece Foot Valve Body(Quick-Flow Type) |
| 2 | DLJ68003-04 | Butterfly Valve Positioning Sleeve |
| 3 | DLJ68003-05 | Butterfly Valve Positioning Shaft |
| 4 | DLJ68001-06 | Closure Plate |
| 5 | DLJ68001-03 | Ball Seat |
| 6 | DLJ68003-17 | Lower Middle Port |
| 7 | 85320000142.65 | 14X2.65 O-Ring |
| 8 | HDD48006-01-02 | One-Piece Foot Valve Stem |
| 9 | DLJ68003-14 | PTFE |
| 10 | DLJ68003-13 | Upper Middle Port |
| 11 | DLJ68003-08 | Stuffing Clamp |
| 12 | DLJ68003-18 | Handle |
| 13 | DLJ68003-11 | Operating Lever |
| 14 | DLJ68003-12 | Handle Location Pin |
| 15 | DLJ68001-15 | Handle Location Spring |
| 16 | DLJ68001-16 | Split Ring |
| 17 | 85988800M8*16 | Countersunk Setscre |
| 18 | 85988300M8*25 | Countersunk Setscre |
| 19 | 859810008 | 8 Washer |
| 20 | 859811008 | 8 Spring Washer |
| 21 | 85985000M8 | M8Nut |
| 22 | 859821006 | C Washer |
| 23 | 85988100M6*10 | Cap Screw |
| 24 | JX468001-24 | Encapsulated O-Ring |
| 25 | JX468001-02 | Solid Poppet |
| | | |
| --- | --- | --- |
| Item | Part No. | Description |
| 26 | 859964006*30 | Hinge Pin |
| 27 | LS212501 | B-Pin |
| 28 | JX468001-03 | Crank |
| 29 | JX468001-04 | Connecting Link 1 |
| 30 | JX468001-06 | Connecting Link 2 |
| 31 | JX468001-05 | Connecting Link 3 |
| 32 | JX468001-07 | Hinge Pin |
| 33 | JX468001-08 | Washer |
| 34 | JX468001-10 | Bushing |
| 35 | 859860002 5*14 | Split Pin |
| 36 | JX468001-11 | Stuffing Clamp |
| 37 | JX468001-13 | Top Bush |
| 38 | 8532000020*2.65 | O-Ring |
| 39 | JX468001-12 | Spindle |
| 40 | 8561000021*2.6 | PTFE O-Ring |
| 41 | 8536002020*2.6 | Encapsulated O-Ring |
| 42 | JX468001-14 | Bush |
| 43 | JX468001-30 | Bushing |
| 44 | JX468001-15 | Taperde Washers |
| 45 | 8561000011.5*2.6 | PTFE O-Ring |
| 46 | 8532000011.2*2.65 | O-Ring |
| 47 | JX468001-26-00 | Spring Assembly |
| 48 | JX468001-19 | Gasket |
| 49 | 85981 1006 | Spring Washer |
| 50 | 85983300M6*20 | Bolt |