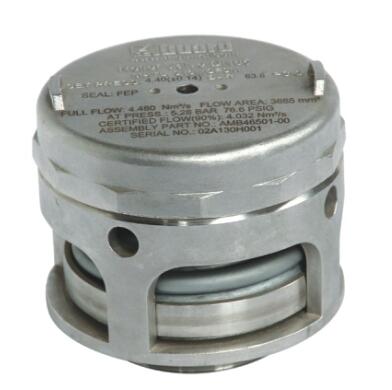 Part No:APB46501-00
Nominal Diameter:DN65
Connection:2.5"BSP
Pressure Setting: 4.4Bar/63.8PSIG
Vacuum Setting:0.21Bar/6.2"HG
Contact Parts:316L
Encapsulated O-Ring
Design Temperature: -55℃~200℃
Weight:3.0kg
Note: According to customers'requirements and design standard. the valve carries out pressure adjustment and lead sealing. In case of danger, it is forbidden to open the lead sealing.
2.5″ BsP Safety Relief Valve-2.5″ BSP connection,65mm Nominal bore. Suitable for a vacuum range of between0-0.81 Bar(024″HG)and a pressure range of between0.21-4.55 Bar(3-66 PSI)
Option-Flame Proof Gauze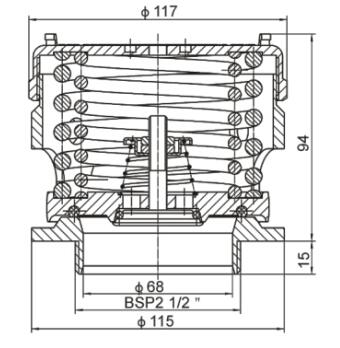 | | |
| --- | --- |
| Pressure Setting | Part No. |
| Pressure:2.19BarVacuum:0.21Bar | APB26501-00 |
| Pressure:4.4BarVacuum:0.21Bam | APB46501-00 |
Different pressure and vacuum settings are available.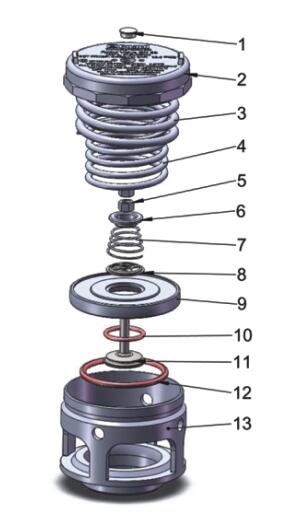 | | | |
| --- | --- | --- |
| Item | Part No. | Description |
| 1 | AMF46501-05 | Plastic Plug |
| 2 | APB46501-10 | Cap |
| 3 | AMF46501-08 | Pressure Spring |
| 4 | AMF46501-09 | Pressure Spring |
| 5 | GB/T6172.1 | Nut |
| 6 | APB46501-07 | Vacuum Spring Pad |
| 7 | APB46501-06 | Vacuum Spring |
| 8 | APFA8001-03 | Vacuum Spring Pad |
| 9 | APB46501-02 | Pressure Plate |
| 10 | APB46501-11 | O-Ring |
| 11 | APB46501-04 | Vacuum Poppet |
| 12 | AMF46501-03 | O-Ring |
| 13 | APB46501-01 | Body |
| | | | |
| --- | --- | --- | --- |
| Item | Part No. | Description | Description |
| 1 | APB46501-00 | 2.5" BSP Safety Relief Valve | Nominal Diameter65mm, Connection 2.5" BSP |
| 2 | ZAB46501-01 | Gasket | PTFE+CNAF |
| 2 | ZAB46501-02 | Gasket | PTFE+SBR |
| 3 | SNFA0001 | Screw Kits 01 | Standard |
| 4 | ZAB46501-04-02 | Adaptor Flange | 6Xф11XPCD105,316L |
| 4 | ZAB46501-05-02 | Adaptor Flange | 6Xф11XPCD105,CF3M |
| 5 | B0650484-01 | Rupture Disc | 65mm ICON ,Bursting Pressure 4.84bar@20C |
| 6 | ZAB46501-03 | Weld-in Flange | 6xM10XPCD105 ,316L |
| 6 | ZAB46501-08 | Recess Flange | 6xM10XPCD105,316L |
| 7 | ZAB46501-07 | Gasket | 6xφ11XPCD105,PTFE+CNAF |
| 8 | ZAB46501-06 | Blind Flange | 6xφ11XPCD105,316L |