Part No.:QLF78001-00
Connection :
Outlet 4xф18xPCD146-160
Nominal Diameter:76mm
MAWP:7Bar
Contact Parts:316
Seal:PTFE、Viton
Design Temperature:-40℃~190℃
weight:11.4kg
3" Full Bore Ball Valve Left open or Right open , with lead seal hole. The ball valve is used as top discharge manually or with actuators. With floating bottom ball seal and dual-seal the seal of valves is adjusted by tightening screw kits.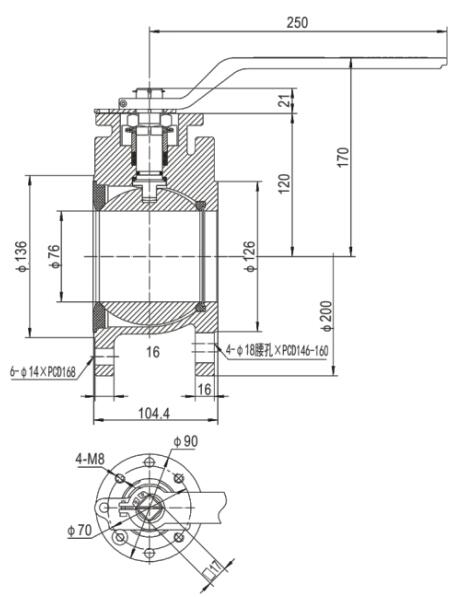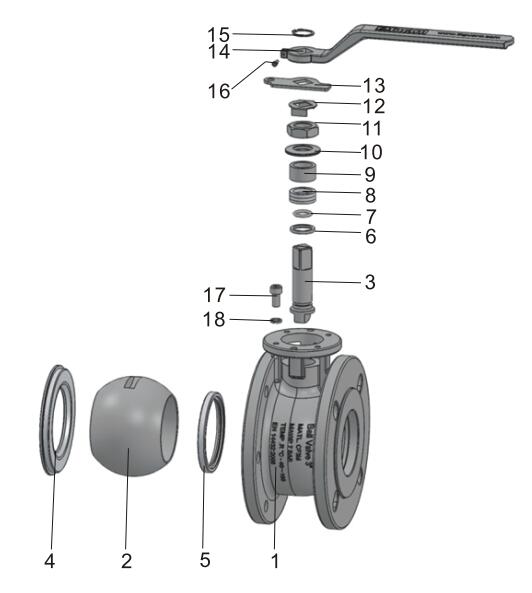 Parts marked in red belong to the seal SNSQ8001.
Parts marked in blue belong to the seal SNMQ8001.
| | | |
| --- | --- | --- |
| Item | Part No. | Description |
| 1 | QLF78001-01 | Body |
| 2 | QLF78001-02 | Ball |
| 3 | QLF78001-03 | Spindle |
| 4 | QLF78001-04 | Ball Seal |
| 5 | QLF78001-05 | Ball Seal |
| 6 | QLF78001-06 | Bottom Bearing |
| 7 | QLF78001-07 | O·Ring |
| 8 | QLF78001-08 | Stuffing |
| 9 | QLF78001-09 | Junk Ring |
| 10 | QLF78001-10 | Belleville Washer |
| 11 | QLF78001-11 | Nut |
| 12 | QLF78001-13 | Plain Washer |
| 13 | QLF78001-12 | Location Nut |
| 14 | QLF78001-14 | Handle |
| 15 | GB/T894.1-1986 | Lock Ring |
| 16 | GB/T70.1-2000 | Stop Bolt |
| 17 | GB/T70.1-2000 | Stop Bolt |
| 18 | GB/T93-1987 | Spring Washer |