Part No. : DLK68002-00
Connection:4x ф 14x PCD130
DC
Nominal Diameter: 80mm
Nominal Pressure: 6Bar
Contact Parts: 316
Seal: PTFE、 Viton
Design Temperature: -40C ~ 200C
3″ DC Cam Lock Unify Butterfly Valve li- -inlet flange drilled 4xф14 holes equi-spaced on a 130mm PCD; DC outlet, Left hand operated with TIR handle. Contact parts in 316 stainless steel with PTFE seal.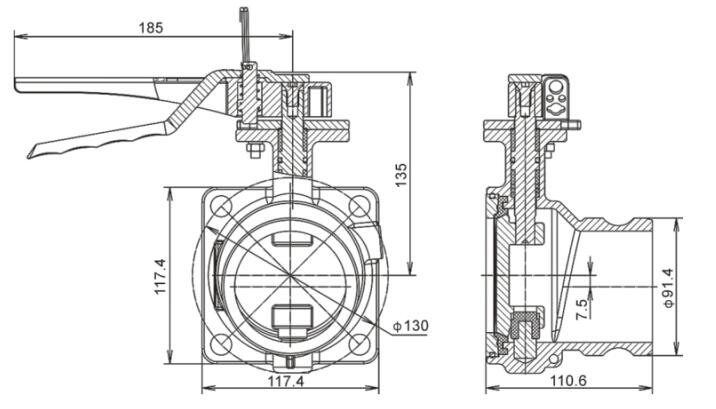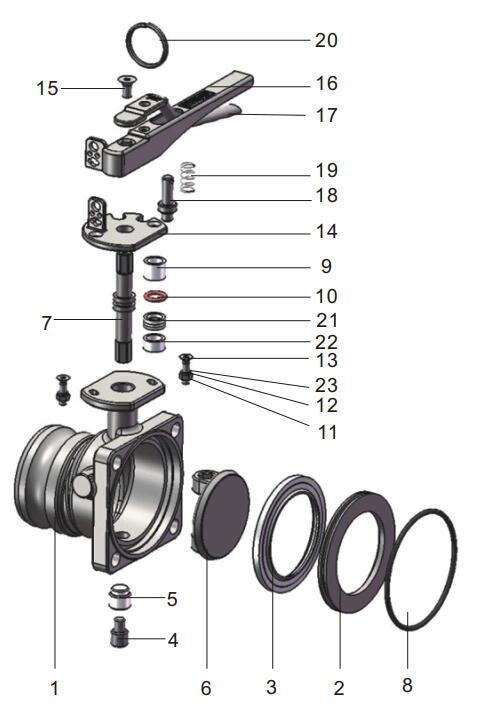 Note: Part for repairing is available.
| | | |
| --- | --- | --- |
| Item | Part No. | Description |
| 1 | DLK68002-01 | Body |
| 2 | DLJ68001-02 | Seal Clamp Plate |
| 3 | DLJ68001-03 | Main Seal |
| 4 | DLJ68001-04 | Bottom Spindle |
| 5 | DLJ68001-05 | Bottom Bush |
| 6 | DLJ68001-06 | Closure Plate |
| 7 | HDD48001-03 | Spindle |
| 8 | DLJ68001-08 | O-Ring |
| 9 | DLJ68001-09 | Split Bearing |
| 10 | DLJ68001-10 | O-Ring |
| 11 | GB/T6170-2000 | | Nut |
| 12 | GB93-1 987 | Spring Washer |
| 13 | GB/T819.1-2000 | Sockethead Capscrew |
| 14 | DLJ68001-11 | Stuffing Clamp |
| 15 | GB/T70.3-2000 | Countersunk Setscrew |
| 16 | DLJ68002-12 | II Handle |
| 17 | DLJ68002-13 | II Operating Lever |
| 18 | DLJ68001-14 | Handle Location Pin |
| 19 | DLJ68001-15 | Handle Location Spring |
| 20 | DLJ68001-16 | Split Ring |
| 21 | DLJ68001-18 | V Spindle Packing |
| 22 | DLJ68001-19 | PTFE Bearing |
| 23 | GB/T95 | Washer |