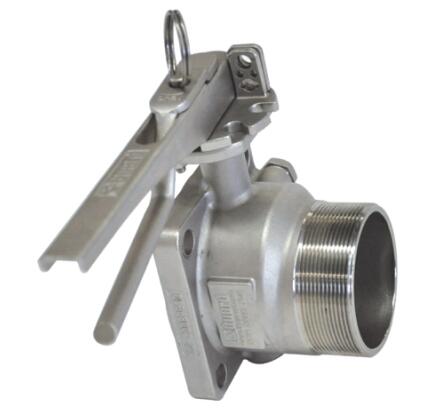 Part No. : DLB68002-00
Connection:Inlet4x ф 14x PCD130
Outlet 3″ BSP
Nominal Diameter: 80mm
Nominal Pressure: 6Bar
Contact Parts: 316
Fitted with PTFE seal
Design Temperature: -40°C ~ 200°C
3" II Unify Butterfly Valve- – Inlet 4x ф 14x PCD130, Outlet 3" BSP. Left open, with lead seal hole, location pin and Multistage seal on spindle, Prevent leaking on transportation.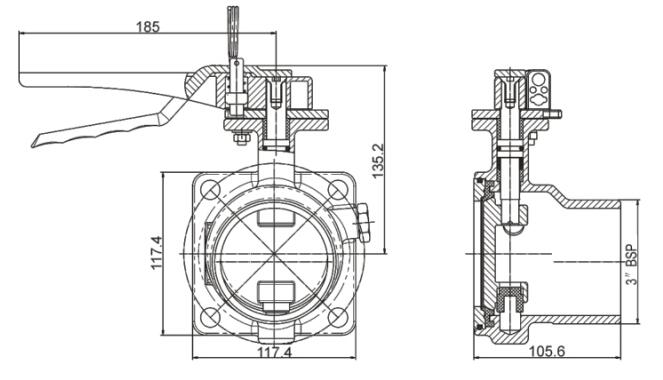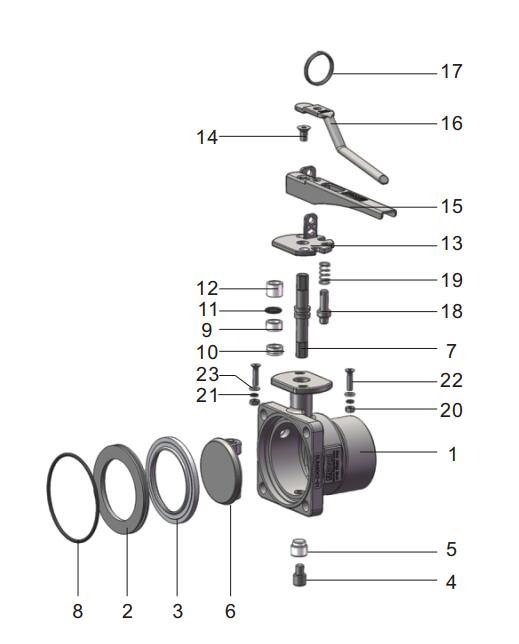 Parts marked in red belong to the seal SNSD8001.
Parts marked in blue belong to the seal SNMD8001.
| | | |
| --- | --- | --- |
| Item | Part No. | Description |
| 1 | DL .B68002-01 | Body |
| 2 | DLJ68001-02 | Seal Clamp Plate |
| 3 | DLJ68001-03 | Main Seal |
| 4 | DLJ68001-04 | Bottom Spindle |
| 5 | DLJ68001-05 | Bottom Bush |
| 6 | DLJ68001-06 | Closure Plate |
| 7 | HDD48001-03 | Spindle |
| 8 | DLJ68001-08 | O-Ring |
| 9 | DLJ68001-19 | PTFE Bearing |
| 10 | DLJ68001-18 | Packing |
| 11 | DLJ68001-10 | O-Ring |
| 12 | DLJ68001-09 | Split Bearing |
| 13 | DLJ68001-11 | Stuffing Clamp |
| 14 | GB/T70.3 | Countersunk Setscrew |
| 15 | DLJ68001-12 | II Handle |
| 16 | DLJ68001-13 | II Operating Lever |
| 17 | DLJ68001-16 | Split Ring |
| 18 | DLJ68001-14 | Handle Location Pin |
| 19 | DLJ68001-15 | Handle Location Spring |
| 20 | GB/T6170 | Nut |
| 21 | GB/T93 | Spring Washer |
| 22 | GB/T819.1-2000 | Sockethead Capscrew |
| 23 | GB/T95 | Plain Washer |