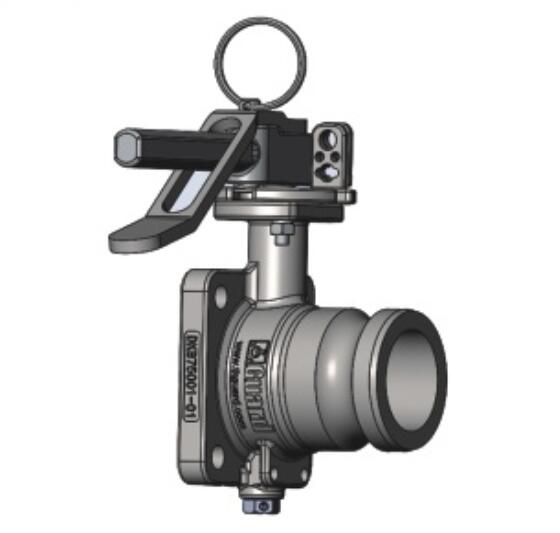 Part No.: DKK75001-00
Connection:
4x ф 11x PCD ф 100
Nominal Diameter: 48mm
Nominal Pressure: 6. 9Bar
Design Temperature: – 40°C ~ +200°C
Contact Parts: CF8M
Seal: PTFE、VITON
2″ Air Inlet Butterly Valve-Inlet 4x ф 11 x PCD100,outlet 2″ DC CamLock, by adjusting the bolt to adjust the valve seal, the main seal is PTFE seat.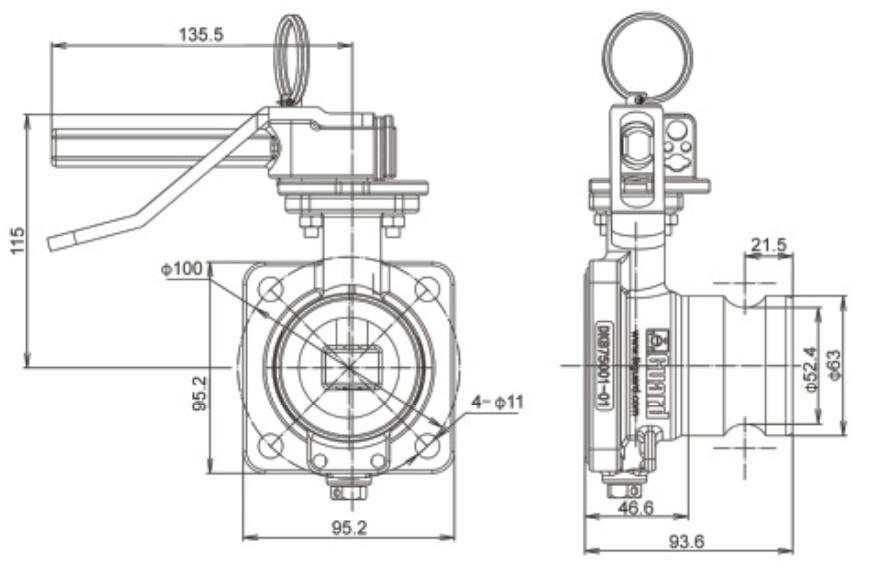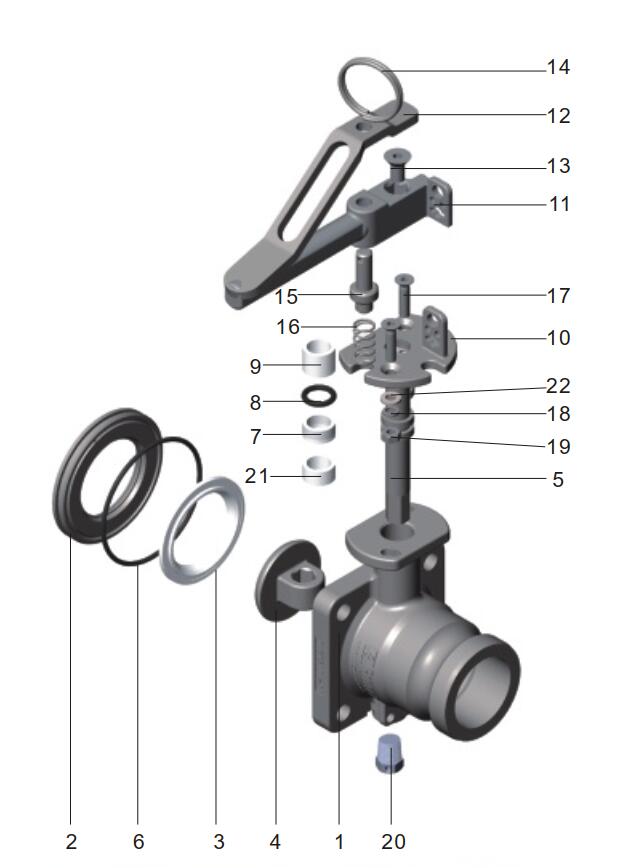 | | | |
| --- | --- | --- |
| Item | Part No. | Description |
| 1 | DKK75001-01-00 | Body |
| 2 | DKB75001-02 | Seal Clamp Plate |
| 3 | DKB75001-03 | Main Seal |
| 4 | DKB75001-04 | Closure Plate |
| 5 | DKB75001-11 | Spindle |
| 6 | DKB75001-10 | O-Ring |
| 7 | DLJ68001-18 | Spindle Packing |
| 8 | DLJ68001-10 | O-Ring |
| 9 | DLJ68001-09 | Split Bearing |
| 10 | DKB75001-13 | Stuffing Clamp |
| 11 | DKB75001-12 | II Handle |
| 12 | DKB75001-07 | Operating Lever |
| 13 | 85988800M8*1 6 | Countersunk Setscrew |
| 14 | DLJ68001-16 | Split Ring |
| 15 | DLJ68001-14 | Handle Location Pin |
| 16 | DLJ68001-15 | Handle Location Spring |
| 17 | 85988300M6*25 | Sockethead Capscrew |
| 18 | 859811006 | Spring Washer |
| 19 | 85984400M6 | Nut |
| 20 | ZAB46501-13 | Plug |
| 21 | DLJ68001-19 | Bearing |
| 22 | 85981 0006 | Plain Washer |